Heroku to AWS Migration Made Easy with Qovery and Cloud303
As businesses grow and evolve, their needs for cloud services change too. This is especially true for companies that start with a Platform-as-a-Service (PaaS) solution like Heroku but need more control over their environment and customization options as they scale. This is where Amazon Web Services (AWS) comes in. Migrating from Heroku to AWS can be a complex process, but it allows businesses to scale their infrastructure and customize their environment to meet their specific needs. In this article, we will explore how Qovery and Cloud303 can help companies to navigate the challenges of Heroku to AWS migration and achieve a seamless transition to a more powerful cloud solution.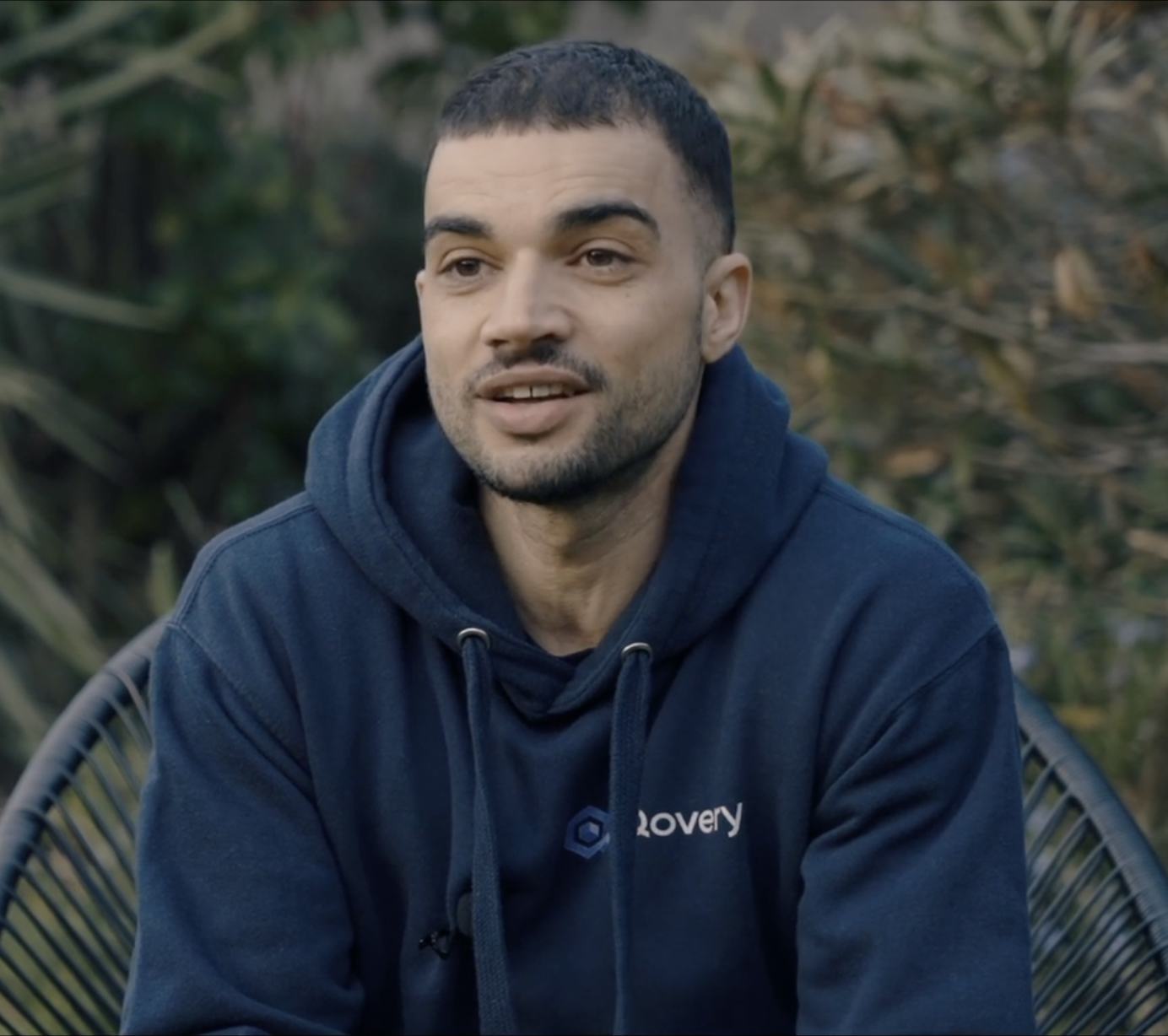 Morgan Perry
March 24, 2023 · 5 min read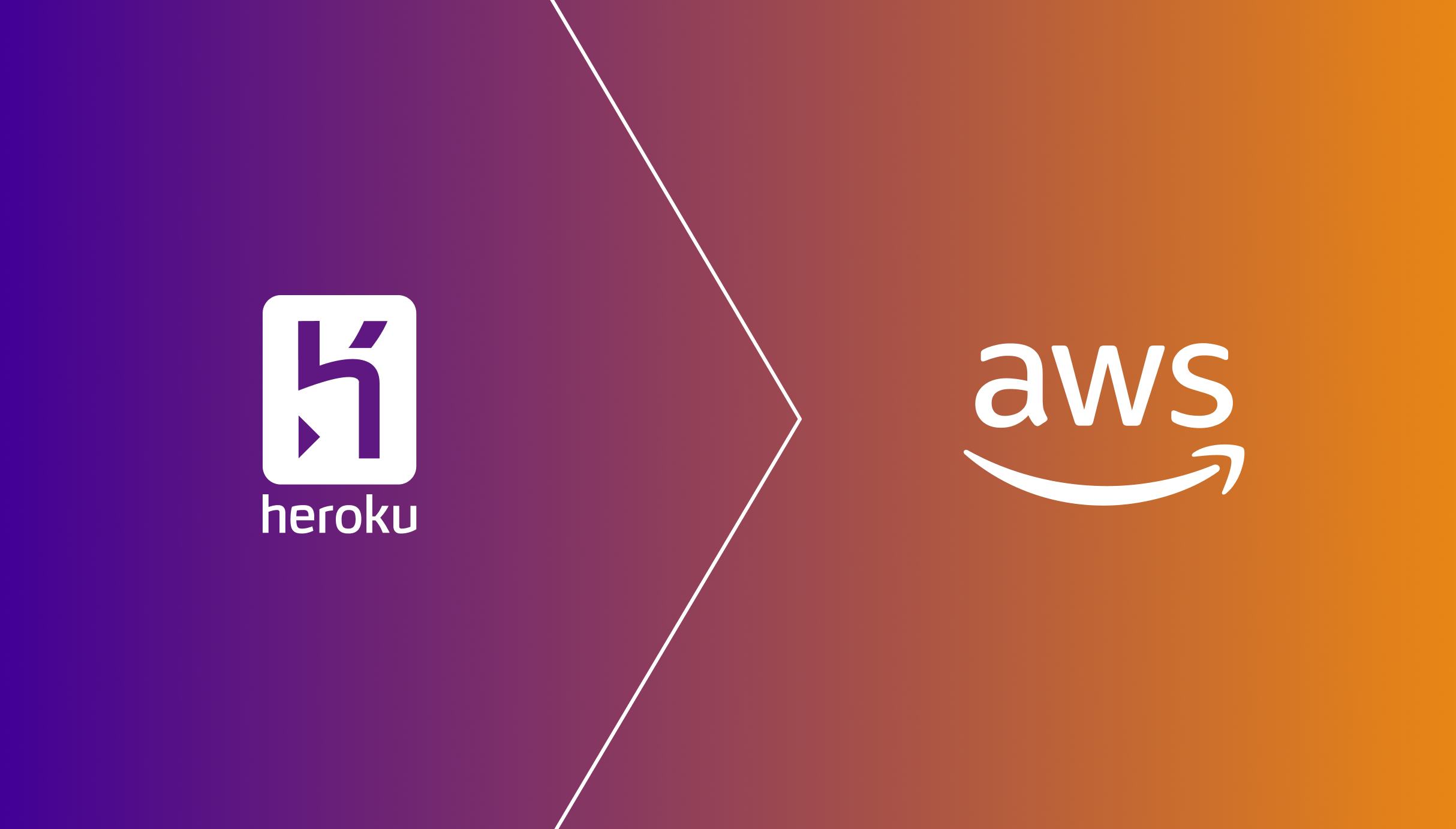 Written by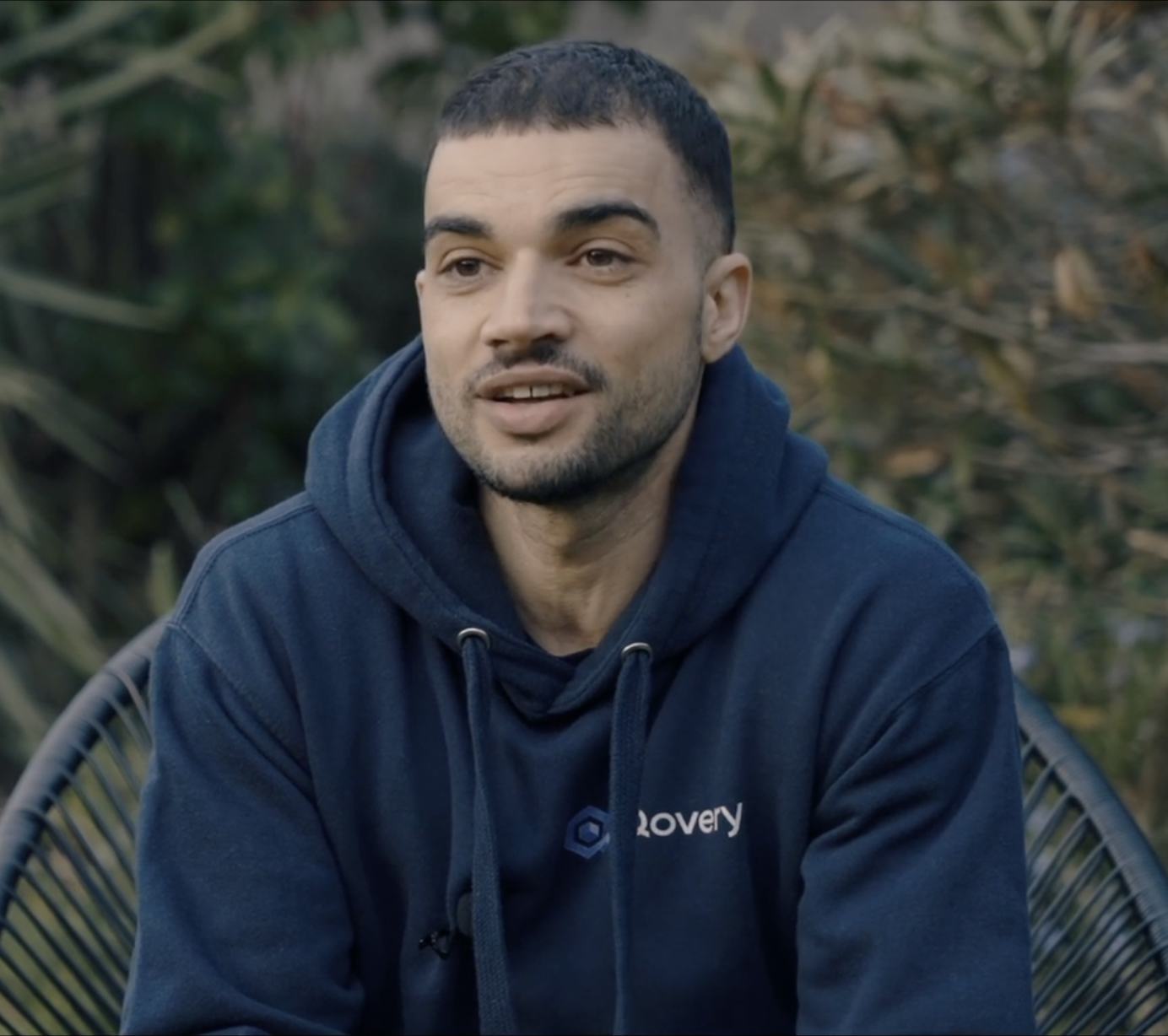 Morgan Perry
CRO and co-founder of Qovery. Morgan is a Tech entrepreneur with 7+ years of experience in the SaaS industry.
See all articles
---
Overview of Qovery and Cloud303
Qovery and Cloud303 are two reliable migration partners that can help businesses move their applications from Heroku to AWS with ease. 
Qovery is a platform that simplifies and speeds app deployment and cloud infrastructure provisioning, giving greater visibility and control for improved performance and reduced costs. Qovery's end-to-end DevOps platform offers the Heroku-like experience on AWS, with added automation, scalability, and cost savings - without sacrificing control or flexibility.
Cloud303 is a Premier AWS consulting partner specializing in AWS DevOps, cloud strategy, architecture, and migrations. They help businesses move client applications and data to the cloud and optimize their cloud resources for cost, performance, and security. Cloud303 is a team of elite Certified Solutions Architects whose primary goal is implementing purpose-driven solutions in the AWS Cloud.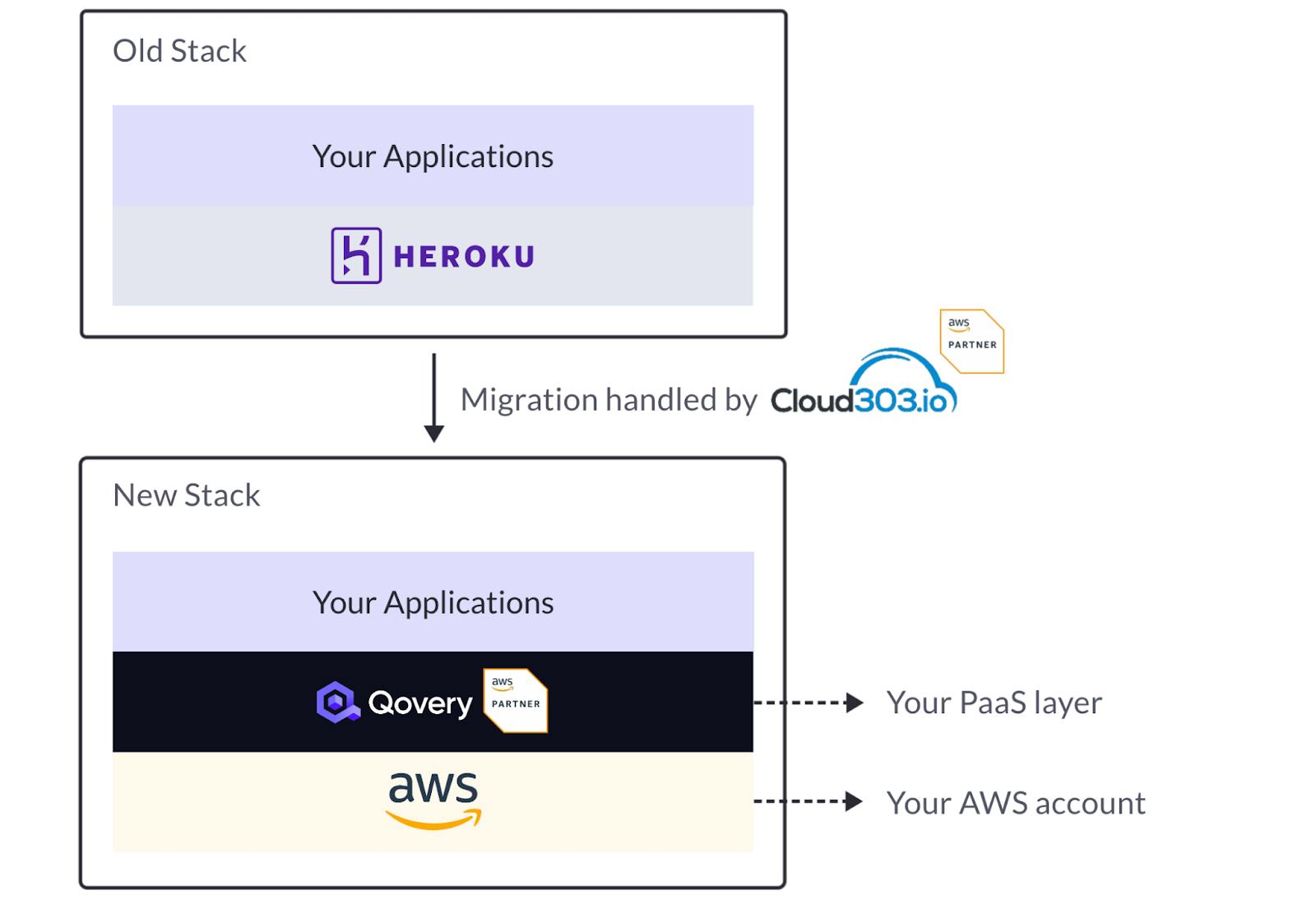 Effortless Migration Path
Qovery and Cloud303 have designed a clear migration path to help our common customers successfully migrate from Heroku to AWS in just four steps.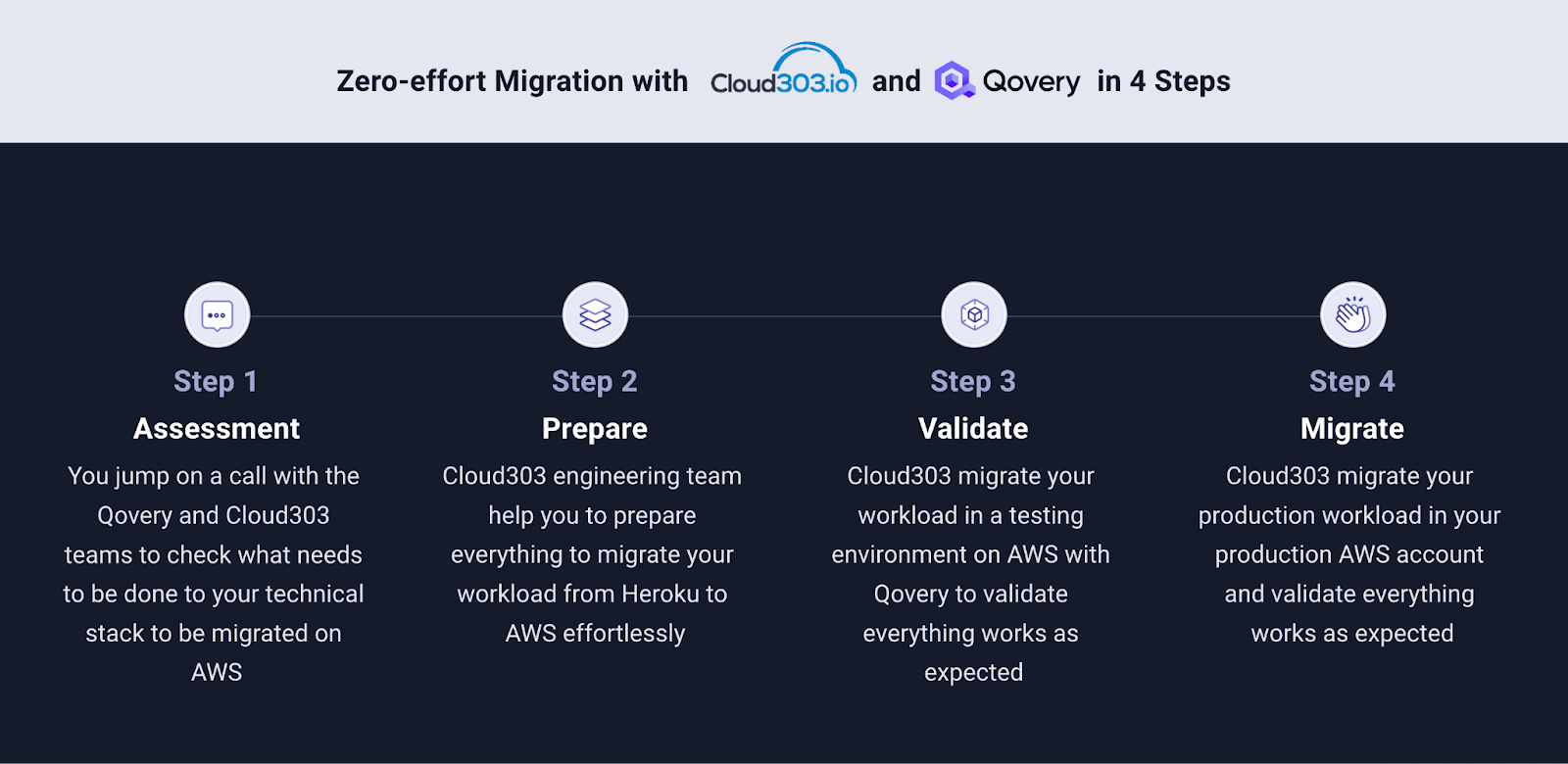 Pre-migration preparation
Before starting the migration process, Cloud303 will help businesses evaluate their applications and data to see their compatibility with AWS. Cloud303 will also set migration goals and timelines to ensure a smooth transition. Qovery and Cloud303 can help businesses with this process by providing assessments for migration, detailed analysis reports, and customized migration plans that meet their unique needs.
Migration strategy
The Heroku to AWS migration strategy used by Qovery and Cloud303 involves containerization, automation tools, and monitoring systems. By containerizing applications, businesses can easily move them from Heroku to AWS without worrying about compatibility issues. Choosing the right automation and monitoring tools can help reduce downtime and minimize errors during the migration process while ensuring the successful migration of applications. This is where Qovery comes in. Ideal for automating, simplifying, and accelerating containerized application deployments... Cloud303 can help with containerization efforts if needed. 
Migration process
The Heroku to AWS migration process involves several steps, and Qovery and Cloud303 can help businesses navigate each of them:
Businesses need to prepare their applications for containerization. Qovery can help with this process by analyzing applications and identifying any potential issues.
Businesses need to set up their AWS environment and configure the necessary infrastructure. Cloud303 can provide customized solutions for this step, based on the unique needs of each business.
Businesses need to deploy their containerized applications to AWS. Qovery can automate this process, making it quick and easy.
To witness Qovery in action, we have provided a comprehensive guide that outlines the five steps required to migrate all your applications from Heroku to AWS, along with your databases.
Post-migration validation
After migrating applications from Heroku to AWS, it is important to validate that everything works as expected. This involves testing, monitoring, and user acceptance. Qovery and Cloud303 can help businesses with this process by providing comprehensive testing and monitoring tools that ensure the successful migration of applications.
Benefits and results
After successfully completing the Heroku to AWS migration process, businesses can expect a wide range of benefits and improved results. Let's take a closer look at some of the key advantages that come with making the switch to AWS:
Cost savings
By moving from Heroku to AWS, businesses can save on infrastructure costs, as AWS offers more cost-effective options for compute, storage, and other resources. Additionally, Qovery and Cloud303's migration strategy helps to optimize resource utilization, further reducing costs.
Improved performance
AWS provides a wide range of performance-optimized instances, allowing businesses to choose the best fit for their specific workloads. Qovery and Cloud303 can help optimize application performance by containerizing applications and using automation tools to manage and scale resources as needed.
Scalability
AWS offers scalable solutions that can quickly and easily adjust to changing demand. By migrating to AWS with the help of Qovery and Cloud303, businesses can ensure that their applications can easily scale up or down as needed without requiring significant changes to the underlying infrastructure.
Usability
AWS provides a range of user-friendly interfaces and tools that can simplify the management and monitoring of resources. Qovery and Cloud303's migration strategy can help simplify the deployment and management of applications, making it easier for businesses to operate in the AWS environment.
Reliability
AWS offers a range of high-availability and fault-tolerant solutions, helping to ensure that businesses' applications remain available and performant even in the face of hardware failures or other issues. Qovery and Cloud303 can help ensure application reliability by using monitoring systems and automation tools to identify and address issues quickly.
AWS Funding
Depending on the migration scope of work, some very lucrative funding assistance programs are available from AWS. Please contact us if you are interested.
By leveraging their expertise and tools, Qovery and Cloud303 can help ensure a seamless and successful migration, allowing businesses to take full advantage of the benefits of the AWS environment. 
Conclusion
The Heroku to AWS migration process can be a complex and challenging task. By partnering with Qovery and Cloud303, businesses can reap the rewards of a successful Heroku to AWS migration, enabling them to leverage the power and flexibility of the AWS cloud platform. Therefore, choosing a reliable and experienced migration partner is essential to ensure a smooth and seamless migration process. With the right strategy and tools in place, businesses can confidently make the move to AWS and take their applications to the next level.
Ready to migrate your applications from Heroku to AWS?
Our team of experts will provide you with a free assessment migration, enabling you to make an informed decision about your migration strategy. Fill out this form to get started, and join us on this journey toward a smooth and seamless migration process!
Deliver Self-Service Infrastructure, Faster!
Qovery turns your existing IaC infrastructure and Kubernetes manifests into repeatable blueprints for complete environments.
Try it out now!