The Future of Qovery - Week #3
During the next eight weeks, our team will work to improve the overall experience of Qovery. We gathered all your feedback (thank you to our wonderful community 🙏), and we decided to make significant changes to make Qovery a better place to deploy and manage your apps.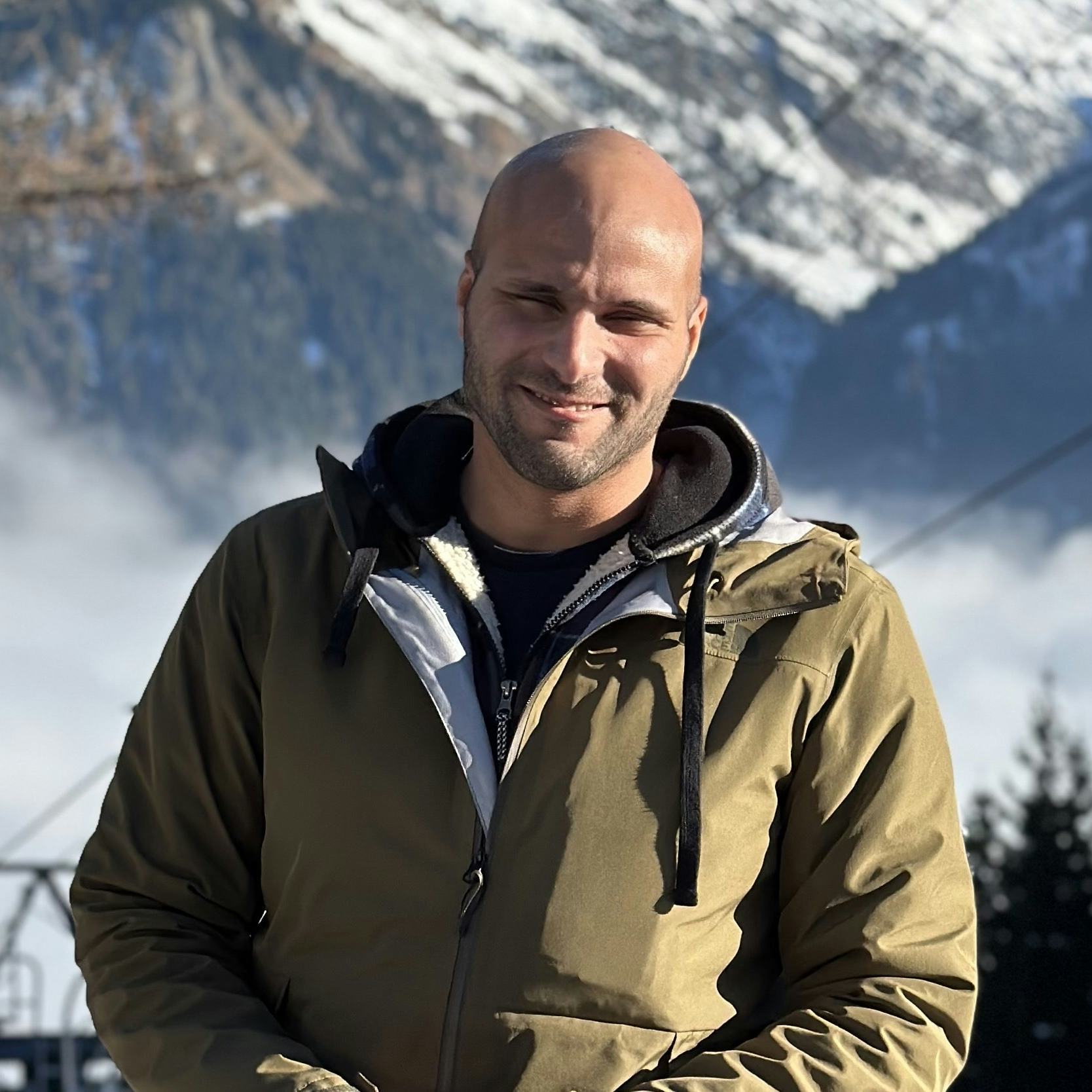 Romaric Philogène
March 20, 2021 · 2 min read
Written by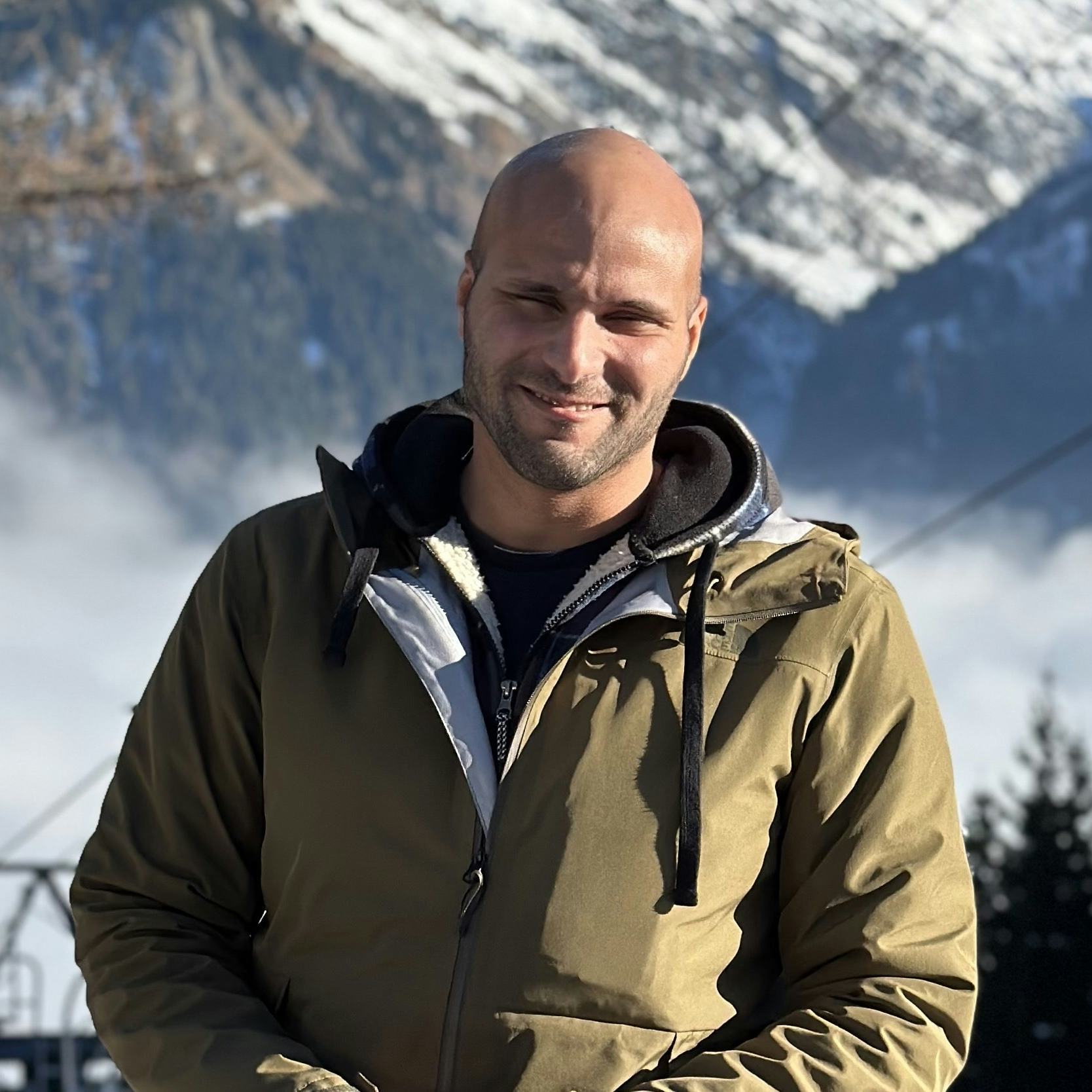 Romaric Philogène
CEO and co-founder of Qovery. Romaric has 10+ years of experience in R&D. From the Ad-Tech to the financial industry, he has deep expertise in highly-reliable and performant systems.
See all articles
---
This series will reveal all the changes and features you will get in the next major release of Qovery. Let's go!
Read the previous article: The Future of Qovery - Week #2.
Qovery empowers better collaboration between developers.
Qovery has been built with the core idea of making app deployment accessible to anyone. From the junior developer to the most experienced one. From the developer working apart to the developer working in a team of dozens of peers. Even if Qovery perfectly fits app deployment for you as an individual developer, Qovery shines when you work with a group of developers. Our next release will head on developers' collaboration a step further to make them more productive than ever. This is how:
Who
Do you remember the last time your colleague working on the same project as you made a significant change that you were not aware of? I do, and that was yesterday. When working in a team of 3, it's relatively easy to keep in sync with anyone. But when you're team grows, it starts to get complicated. To make team communication smoother, Qovery will let you indicate your intention when you make an action (stop, start, restart, rollback) on an application or an environment.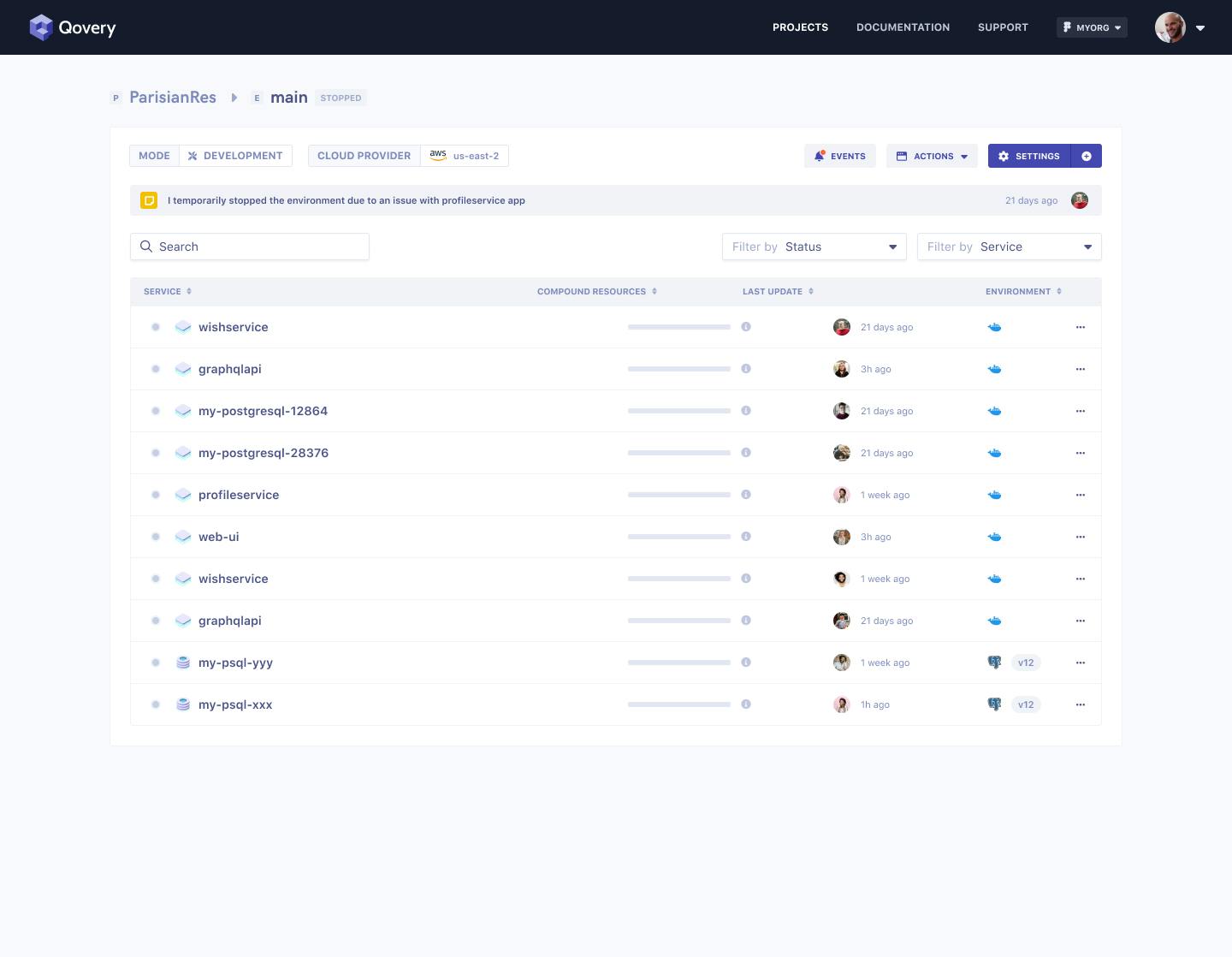 When
One info that matters to me as a developer is to know when something wrong happens. In our next release, you'll get access to all the events that occurred to your applications from a single place.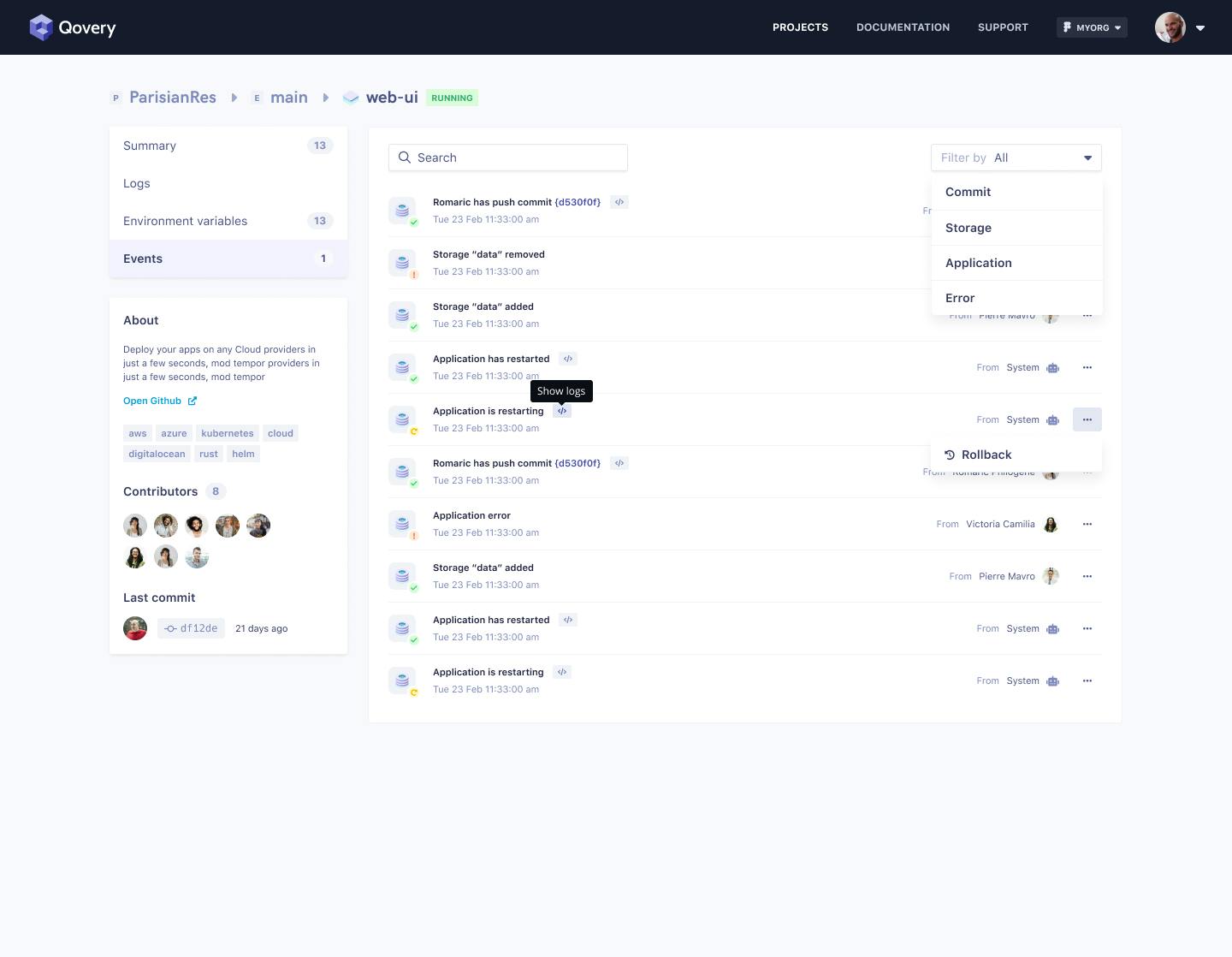 What
We heard your feedback about your hard time troubleshooting your application. That is why we decided to revamp the logs console for your application integrally.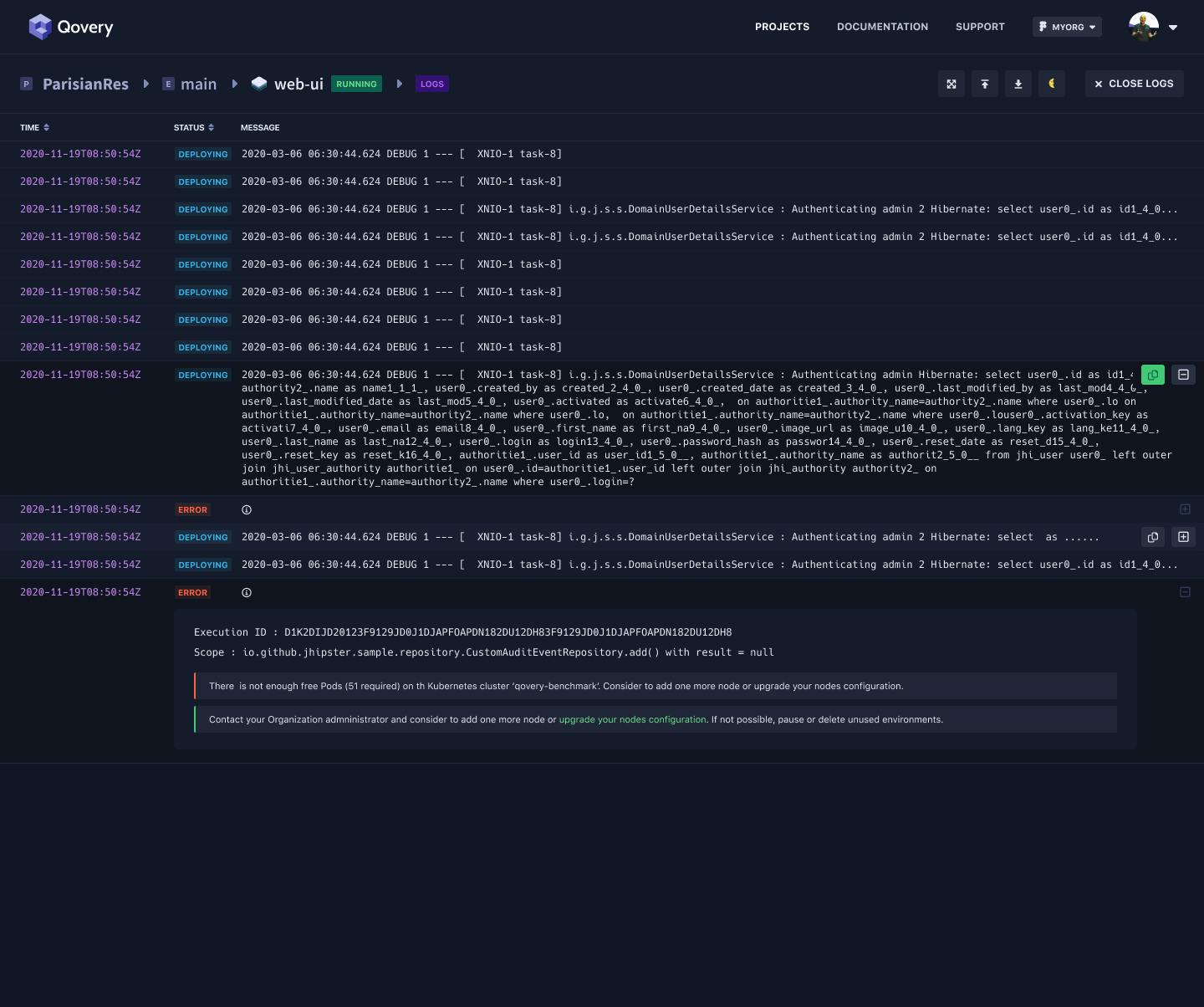 It is super exciting to develop this set of features to improve our life as developers. We have some open positions if you want to contribute, and we'd love to hear from you.
--
See you next week -- same hour, same place 👋
Romaric from Qovery -- We are hiring
Your Favorite Internal Developer Platform
Qovery is an Internal Developer Platform Helping 50.000+ Developers and Platform Engineers To Ship Faster.
Try it out now!